Uniswap Foundation Proposal may be approved next week amid mixed reactions from the community. If a new proposal from two community members is approved later this month, a new $74 million foundation could support the largest DEX in the world.
The Uniswap Labs community has already started deliberating a new idea that would create a Uniswap Foundation with a U.S. base, but it will first cost $74 million.
The proposal has so far received a mixed response from the community. While many have praised the foundation's plans to support and develop the Uniswap ecosystem, others have expressed concern about the proposal's high price tag.
Devin Walsh, a former chief of staff at Uniswap Labs, and Kenneth Ng, the director of the Uniswap Grant Program, submitted the proposal on August 5. Walsh stated that the foundation's primary goals are to support the Protocol's decentralized growth, reinvigorate governance, and serve as a Protocol advocate.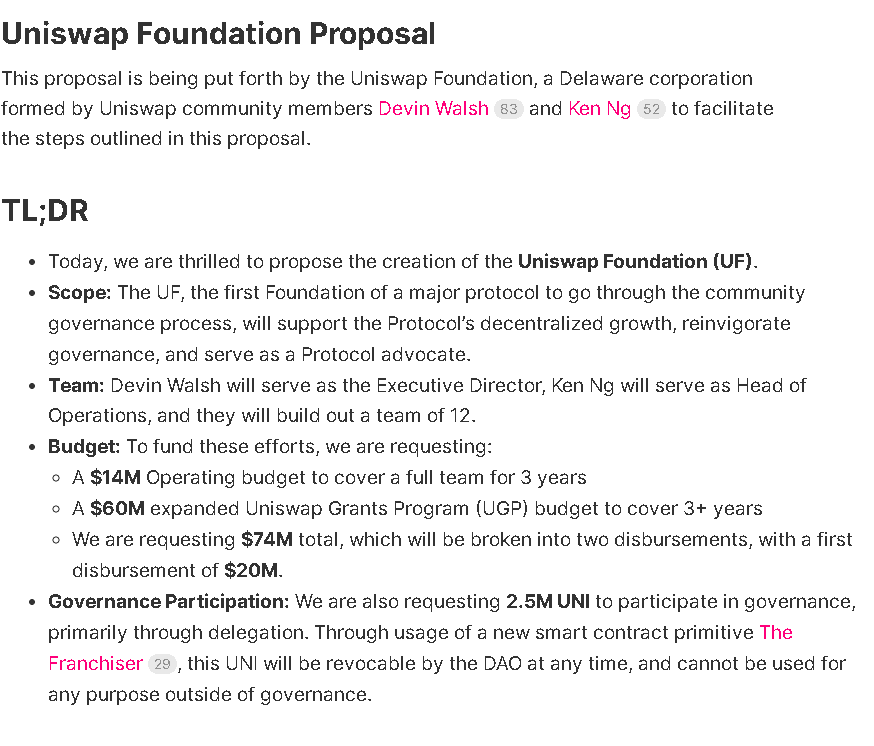 If it receives enough support, the Uniswap Foundation (UF) would be incorporated in Delaware, with Walsh serving as executive director and Ng taking on the role of operations director.
Walsh has requested $74 million in UNI tokens over three years to fund her vision, of which $60 million would go toward her own Uniswap Grant Program (UGP) and the remaining $14 million would serve as a "operating budget" to hire a team of 12.
By trading volume, Uniswap is the biggest decentralized exchange (DEX) on the planet. According to CoinGecko, Uniswap V3, the third iteration of the DEX, had a volume of $793.8 billion over the previous 24 hours, matching Huobi Global and KuCoin, two centralized exchanges (CEXs).
Hayden Adams, the founder of Uniswap, declared in a tweet on August 4 that he was "Sooo excited about this proposal." Adams also added that after it passes the Foundation will be another team working toward a future where the Protocol thrives, not just survives. This statement demonstrates assurance that the Uniswap Foundation proposal will pass i.e. will be approved.
4/ Devin was Chief of Staff at Labs until she recently resigned to pursue building the Foundation with Ken. She's been in crypto since 2016, working on decentralized identity @Consensys.

She's smart, a pleasure to work with, and passionate about decentralized protocols/DeFi.

— hayden.eth 🦄 (@haydenzadams) August 4, 2022
Adams and other members of the Uniswap community have supported the proposal to some extent thus far, but there is a sizable group of opponents who believe the price is excessive.
Adam Cochran, a partner at Cinneamhain Ventures, expressed his support for the UF's objectives but added in a tweet on August 4 that the $60 million allocated for the UGP "is misguided at this phase."
If the current ongoing straw poll passes, the proposal will be put to a final vote on the Snapshot governance voting platform on August 8.
Check out today's news.
DC Forecasts is a leader in many crypto news categories, striving for the highest journalistic standards and abiding by a strict set of editorial policies. If you are interested to offer your expertise or contribute to our news website, feel free to contact us at [email protected]