SME owners need a year's financial buffer to feel safe: despite existing debts
With interest rates expected to rise during 2018, over four in 10 admit to having no such backup and average monthly debts of £3.6k   
Nearly a third (28%) of small business owners don't feel financially confident unless they have a buffer big enough to cover running costs for a year, according to new research* from merchant services provider Paymentsense (https://www.paymentsense.co.uk). The study found that despite this, more than four in 10 small business owners (41%) admit to having no such buffer in place, meaning as many as 2.3m UK small businesses may have no financial backup plan.
This 'financial confidence gap' between what business owners need to feel secure, and what they actually have, comes after the British Business Bank published a report revealing that small business confidence and demand for finance are declining.
The government-owned development agency found the proportion of businesses confident of loan approval fell recently from 58% to 43%. The report also highlighted that lending was flat to small businesses in 2017.** These findings arrive at a time of uncertainty over European trade negotiation outcomes, and reports of an expected medium-term interest rate increase.
For those businesses that do have something in reserve, Paymentsense found that the most popular backup is cash savings – held by nearly six in 10 (59%) of prepared businesses. A third (34%) said their buffer included property and nearly a quarter listed an overdraft (23%). Plant and machinery featured for a fifth (20%), with 17% using business credit cards.
Michael Foote, who founded UK price comparison site Quote Goat (https://www.quotegoat.com) in 2015, said: "As a small business owner, feeling financially secure has always been one of my top priorities. For me, this means ensuring I have a cash buffer that covers company costs for at least half a year, to safeguard against potential cash flow problems.
"Initially it was difficult to build and meant taking the bare minimum out of the business whilst it grew. However, it's let me focus my efforts elsewhere in the business, enabling Quote Goat to successfully compete against larger competitors in the industry."
The Paymentsense study also found that almost two thirds (61%) of SME owners are in debt, with monthly repayments averaging almost £3,600 (£3,589). What's more, over half (55%) admit to deliberately paying suppliers and partners late to ease cash flow problems. More than a fifth (21%) said they do this at least once a month.
Guy Moreve, head of marketing at Paymentsense, comments: "We know that feeling financially confident is critical for small business owners. Aside from helping you sleep at night, it enables accurate long-term fiscal planning for growth rather than just survival. Having a buffer is just part of the picture. Cash flow monitoring and proactive credit control are also essential. However, we'd caution against routinely delaying invoices to partners and suppliers, as it risks damaging important business relationships.
Working with over 60,000 small businesses across the UK, we understand their financial anxieties. Despite recent drops in the rate of inflation, a future increase may lead consumers to become more cautious with their purchases, and would make existing business loans more expensive to manage for SMEs. With this in mind, having a buffer makes great business sense. Actively setting aside a little each month will help balance slower trading periods, and unforeseen expenses. Even something as simple as a weekly cash flow report can provide insights that will enable you avoid future problems."
The most popular financial buffer
| | |
| --- | --- |
| Cash Savings | 59% |
| Property | 34% |
| Overdraft | 23% |
| Plant / machinery / equipment | 20% |
| Business Credit Cards | 17% |
| Asset-based lending / factoring/ invoice finance | 16% |
| Bank Loans | 14% |
| Stocks and investments | 13% |
| Help from family and friends | 8% |
| Government funding scheme | 8% |
* Commissioned research took place in January 2018 amongst a nationally representative sample of 504 small business owners.
**Comparing the three months to August 2017 with the three months to November 2017. https://www.ft.com/content/9c5b9b56-1599-11e8-9e9c-25c814761640
Reference for inflation levels:
http://uk.businessinsider.com/uk-inflation-rate-in-february-brexit-2018-3
British Business Bank: Small Business Finance Markets Report 2018
https://www.british-business-bank.co.uk/research/small-business-finance-markets-report-2018/
For more information please contact:
Liz Naven / Ben Crispin
Fugu PR 
T: 01273 327 514 
liz@fugupr.com / ben@fugupr.com
DC Forecasts is a leader in many crypto news categories, striving for the highest journalistic standards and abiding by a strict set of editorial policies. If you are interested to offer your expertise or contribute to our news website, feel free to contact us at editor@dcforecasts.com
BXB Exchange A new cryptocurrency trading platform has entered the scene to offer services as a digital currency exchange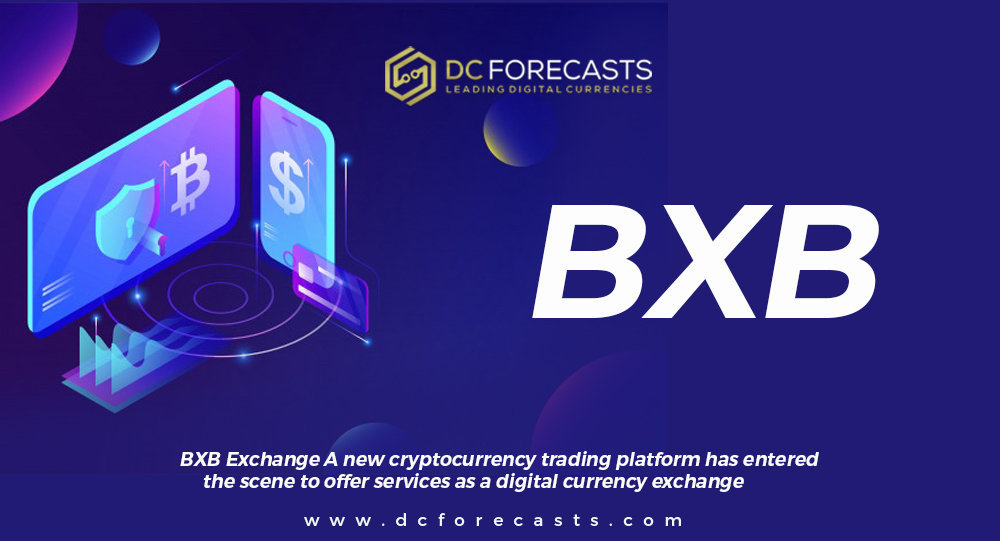 Talinn, Estonia: A new cryptocurrency trading platform has entered the scene to offer services as a digital currency exchange.
BXB Exchange
launched its platform with more features than other similar services, to cater to cryptocurrency investors and traders who are looking to exchange digital assets such as the popular Bitcoin. BXB boasts of a number of advantages in using the platform over existing services. These features include auto-trading, tap trading, options trading and futures trading. The platform is built from the ground up, giving users the most secure and efficient trading experience. The featured tools such as auto and tap trading make trading effortless, with hotkeys that help short-term traders get in and out of trades. The options trading feature, on the other hand, is designed to be simple enough for new users and comprehensive enough for even the most experienced traders. And lastly, the futures trading tool gives a 1% price change in the market a chance to give a 100% return in pocket. The company recently announced that IMChat will be launched on BXB Turbo, as the platform's first initial exchange offering (IEO) project. It's an instant messaging application that's designed based on blockchain technology. The successful integration of instant messaging and blockchain support crypto wallets, payments, transactions, and digital currency red pocket, while providing optimized instant messaging experience. This feature will be launched together with the platform's trading products that include futures and options trading. According to BXB Exchange CEO Kwan Phik, "IMchat is a very solid and mature project. They have market-proven products and a significant user base which gives them a large development space in the IM industry. Among the many projects that we have reviewed, we are very excited about IMchat in particular. We are very happy to have them as our first project to be launching on BXB Turbo. We are looking forward to seeing the success of IMchat." BXB Exchange is an Estonia-based financial and blockchain tech company that's made up of a team from Wall Street's top quantitative hedge fund and traditional financial trading technical experts. The company has extensive experience in understanding the underlying structure of cryptocurrency exchange, such as security mechanisms, liquidity market making, and ultra-low latency systems.
`
UPCOMING EVENTS RECOMMEND BY DC FORECASTS