The Uniswap volume crashed by 83% since its peak while the decentralized finance market is slumping with coins like UNI and YFI decline continuously. With the lackluster price performance of the tokens, the Uniswap volume crashed substantially so let's read more in the latest crypto news today.
When Uniswap surpassed Coinbase Pro in daily volume at the start of September, it processed $953 million in less than a day. Since then, the daily volume of the decentralized exchange dropped and Uniswap processed $161 million worth of volume in October which marks an 83% drop since the peak. From June to September, the DeFi market received a huge increase in market demand and user activity. The launch of COMP and YFI started a new Defi cycle dominated by yield farming which gained huge popularity. As low-quality forks started to surface, the interest in Defi decreased, as Ceteris Paribus explains:
 "Looking back on the DeFi cycle, think it's important to remember that it started before 1,000% apy's with legacy defi tokens getting the bid. Can be easy to remember the blow off top phase at the end but the trend was real and started without the three F's (farms, forks, food)."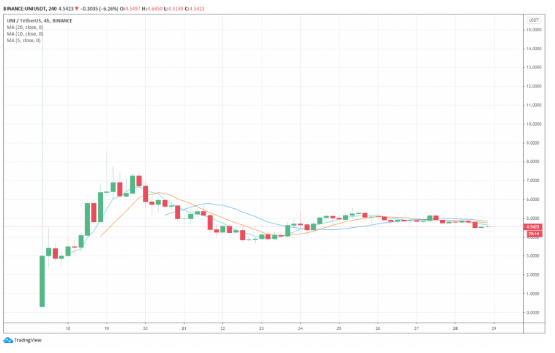 The craze around DeFi started to cool off as the daily volume of Uniswap and other DEXs dropped. The daily volume of the platform dropped since September when the Defi blow-off happened. Both Defi tokens and altcoins are in a precarious position as bitcoin started rallying on its own, outperforming the rest of the market. when Bitcoin decouples form the altcoin market, it causes altcoins to slow down while Bitcoin speeds up.
The trend is concerning for these tokens because if BTC and ETH see a near-term correction it will bring more pressure on the DeFi market. Some analysts believe that a new Defy cycle will have to emerge for decentralized exchanges to reach August levels. There's a variable that could spark another wave of demand for decentralized exchanges like Uniswap over time. In recent weeks, the exchange FUD dominated the market and with the BitMEX and OKEx drama, withdrawal suspension caused the entire market to retrace.
The uncertainty around major centralized exchanges could cause the demand for Uniswap and DEXs to grow. Albeit decentralized exchanges could even get more complicated to use if they involve non-custodial wallets like Metamask, among the long-time crypto users which could make Uniswap more compelling. Uniswap outperformed rivals like SushiSwap after the launch of the UNI token. Messari researchers wrote:
 "SushiSwap's TVL and volumes dropped further once Uniswap launched its $UNI token, eliminating one of SushiSwap's core value props At the end of the quarter, SushiSwap was doing less than than 15% of Uniswap volumes."
DC Forecasts is a leader in many crypto news categories, striving for the highest journalistic standards and abiding by a strict set of editorial policies. If you are interested to offer your expertise or contribute to our news website, feel free to contact us at [email protected]