Augur users bet on Joe Biden in the latest presidential election race and they bet more than $111,000 that he will win so let's read more in today's crypto news.
Augur's prediction markets were buzzing as of late as the crypto users started betting on the outcome of the Presidential election. The interest can be measured in the amount of money that is circulating between the three top prediction markets but what is most interesting is that the participants were not Americans only. Three markets on Augur hit a total of $111,000 after the first US Presidential Election Debate and claimed Joe Biden to be their favorite candidate according to the Augur users that put money to back up their opinions.
Both NO and YES Trump outcome tokens are now on @CoinGecko, minted with https://t.co/hjHwqjnSr8! pic.twitter.com/2NWkeul3gL

— Augur (@AugurProject) September 28, 2020
Augur is a prediction market that allows users to create a no-limit bet using the simple questions offered about politics, economics, sports, and other sectors. It has been interesting a few days after the debate and the official Augur project even went as far as to create YTRUMP and NTRUMP tokens which some users already traded on Uniswap and Balancer. Anyone can create a prediction market on Augur or even bet on the outcome of established questions but the platform leverages incentivized consensus reporting to make sure that the outcome is honest and representative.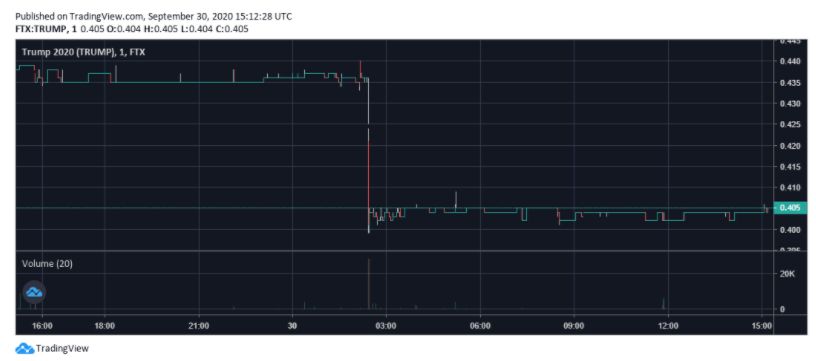 The report has to stake a particular amount of REP as the platform's native token and DAI to keep them accountable for their observations as well. Alternatively, if the users suspect that the reporter is misrepresentative of the truth, they can call upon the dispute system to absolve the reporter from their stake and enforce the correct outcome. The prediction markets can be very useful for determining a community's sentiment for future outcomes but there are some issues too.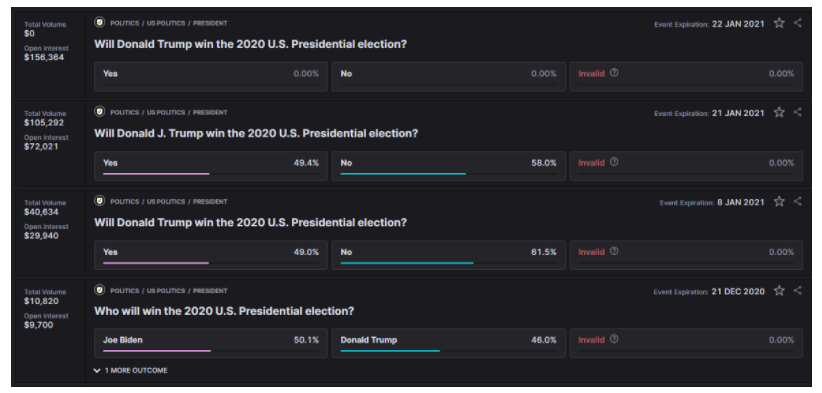 During the 2020 US Presidential Election, crypto users could only represent a smaller segment of the US voter population as foreigners like the ones in Asia and Europe can participate if they are inclined. Despite the assortment of nationalities like participating in the latest election, they seem to be favoring Biden. Crypto users have lost their confidence in Trump as shown by their bets on the presidential debate. The sentiment is especially seen on the FTX presidential futures contract where the price so the TRUMP futures contracts dropped by 8.11% in value per share. FTX even created six futures contracts which were default to $1 if the Candidate wins or $0 if they lose the race.
DC Forecasts is a leader in many crypto news categories, striving for the highest journalistic standards and abiding by a strict set of editorial policies. If you are interested to offer your expertise or contribute to our news website, feel free to contact us at [email protected]