ETH developers calculated how to defuse the difficulty bomb because if they leave it untreated, they will slow down the network as we can see more in our Ethereum news today.
Ethereum's encoded difficulty bomb is set to explode this summer and James Hancock as well as Tim beiko said that the ETH developers calculated the time needed to delay the bomb and this could the last time the developers need to take that action. Ethereum developers agreed on Friday how to delay the difficulty bomb ad if that is left untreated, the entire network could be slowed down. The difficulty bomb is an old piece of code that makes mining on ETH slower and less profitable over time by increasing the lag between the production of blocks.
We just wrapped up #AllCoreDevs 113 😁

Agenda: https://t.co/54AacjzpFO
Recording: https://t.co/PM8CVZ7daL

Recap below 👇🏻 https://t.co/wDU2vlNnBS

— Tim Beiko | timbeiko.eth 🦇🔊 (@TimBeiko) May 14, 2021
Ethereum 2.0 switches the network from proof of work as a way of validating transactions with powerful mining computers to Proo of Stake which rewards the ones that pledge the coins to the network. It takes an average of 13 seconds to mine a block on ETH right now and without delaying the bomb, it could take more than 20 seconds to validate the block by the end of the year. Ethereum developers agreed on how many blocks were quite necessary to delay the bomb until December. The calculation for the delay was proposed by the ETH core developers James Hancock as he said:
"The bomb's always there, and we defuse it by turning the blocktime back just for the bomb."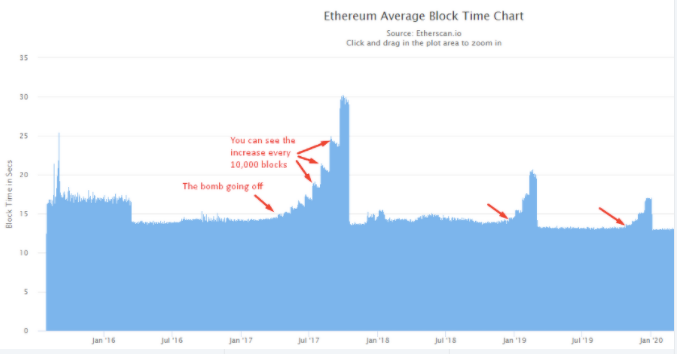 He later said that the proposal will delay the bomb by 9,700,000 blocks. Tim Beiko, the ETH core developer also said that the developers dismissed a proposal to delay the bomb next spring but that won't be necessary. The developers expected that by December, the network will update to allow the ETH 1.0 the network that relies on PoW to communicate with ETH 2.0 as the new network relies on PoS and this is known as the Merge:
"If the Merge is ready by December, we won't need to do anything about the bomb because we will move away from mining entirely."
If the merge plans remain unimplemented, the Shanghai fork is expected to go live and will delay the bomb once again. The Bomb has been delayed three times so far.
DC Forecasts is a leader in many crypto news categories, striving for the highest journalistic standards and abiding by a strict set of editorial policies. If you are interested to offer your expertise or contribute to our news website, feel free to contact us at [email protected]