I'm sure that almost everyone who regularly invests in public companies has, at some point, found a private company that they wish they could invest in. This month saw the launch of a new platform that aims to solve that problem whilst simultaneously shaking up the archaic system of angel investing. Backed allows anyone to speculate on the future of private companies by buying and selling that companies' designated coins, on the Backed platform.
Company coins are reputational-based coins that go up and down in price based on the number of coins in circulation. Like stocks and shares, the price is determined by demand and increases as more people buy in. Right now on the Backed platform, you can buy the coins of companies such as Twitch, TikTok, SpaceX, Discord with many companies being added daily. 
Although owning a company coin doesn't mean you actually own equity in that company, you pay a 10% gratuity fee to the company. This fee is reserved for the company, that simply claims its Backed company profile to release the funds. This means your purchase will have a positive impact on that company once they claim their profile, which in theory helps to further the potential returns of your investment.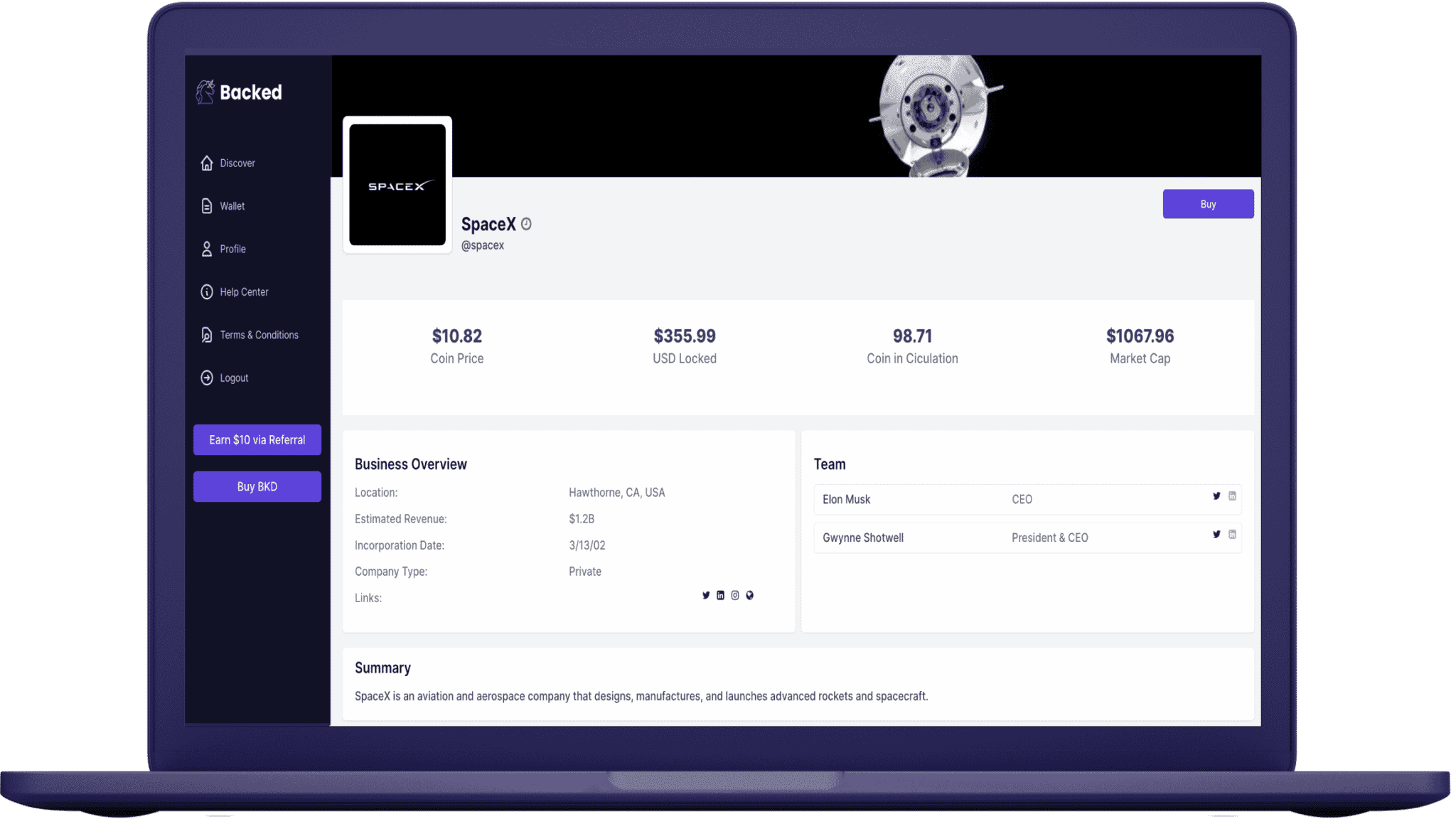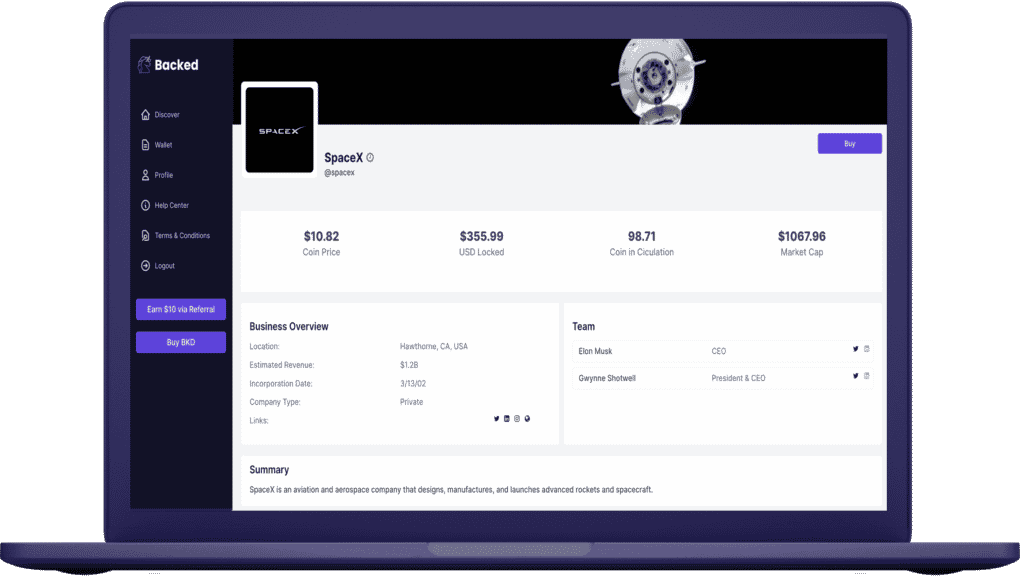 To buy and sell company coins, you first have to purchase Backed's native token, BKD. The token is hosted on the Binance Smart Chain, which means that all transactions can be viewed on bscscan.com. There is a fixed supply of 6m BKD tokens. The token launch took place in June, with the price starting at around $0.40 and doubling for every 500,000 tokens purchased.
If all 5 million tokens sell during the initial token sale, the token price will 512x. So could company coins change how people invest in startups? Definitely.

Currently, to become an Angel Investor in the US, you must be an accredited investor with a net worth of $1m+ (excluding your house) and/or income of $200k+ per annum. That excludes 99% of the population from investing in startups and private companies. For those lucky enough to qualify as an accredited investors, access to funding rounds is often limited to those with friends in high places. If you do manage to invest in a hot startup, your position is often diluted many times as the company raises more money, and your position is often illiquid for a decade or more.
On Backed, almost anyone can create a free profile, verify their identity and begin trading company coins in under 20 minutes. The minimum purchase is $50, and you can sell your coins back to the system at any time.
"For too long, speculating on the next big startup has been reserved for a select number of Angel Investors and VCs. Not anymore. Almost anyone can speculate on the future of their favourite companies by buying and selling their company coin."  Lee Betts, Founder of Backed
In a turbulent crypto market, many will question the timing of an unknown platform, but perhaps others will see an opportunity to reallocate funds into a potentially very high-growth token. For more information on Backed, visit the platform's Help Center.

DC Forecasts is a leader in many crypto news categories, striving for the highest journalistic standards and abiding by a strict set of editorial policies. If you are interested to offer your expertise or contribute to our news website, feel free to contact us at [email protected]