The world's perception around money is changing, and that is largely down the emergence of cryptocurrencies. Since the first Bitcoin mine block was mined in 2009, cryptocurrencies with a wide variety of names have come to fruition. It's only going to get bigger, too.
It's hard to compare the cryptocurrency world to anything, but a similarity between it and the gaming sphere potentially makes sense, especially when it comes to mobile phone games. The options for mobile phone gamers were incredibly limited in the early days. Snake, puzzle games and the like were the only creations. Likewise, with cryptocurrencies, the main few were the only reliable ones out there.
Now, with mobile phone gaming, console-quality titles are released, games are a lot more advanced, and creations offering progressive jackpots like Mega Moolah Slot have stronger competition. Likewise, Bitcoin is not the sole cryptocurrency dominating the market in today's world, with numerous cryptocurrencies winning the public round in recent times, therefore creating a more comprehensive and detailed cryptocurrency world. Both gaming on a phone and cryptocurrencies have shown remarkable growth over the last ten years or so.
But what are the most popular cryptocurrencies at the moment? Litecoin has been hogging the limelight, but what other cryptocurrencies are worth investing in apart from Bitcoin? Here's a look at some of the most popular cryptocurrencies in 2020.
Ethereum (ETH)
Similar to Bitcoin, Ethereum uses a blockchain, but it has a different currency called Ether. Managed by an open network of users, the biggest difference between Ether and Bitcoin is in the way that Ether has its smart contracts, where a user gets paid depending on whether or not they meet certain conditions. The benefits of these type of contracts tend to include no third parties in transactions, quicker transactions, and transactions which get verified by hundreds of other users.
Litecoin (LTC)
The aforementioned Litecoin has been gathering real momentum recently. Litecoin is another cryptocurrency which is similar to Bitcoin, with its blockchain, public ledger, and miners who verify transactions. It does have three other features which separate it out from many other cryptocurrencies, though. Litecoin has a fast processing speed, a larger array of currency to choose from, as well as having easier to crack algorithms.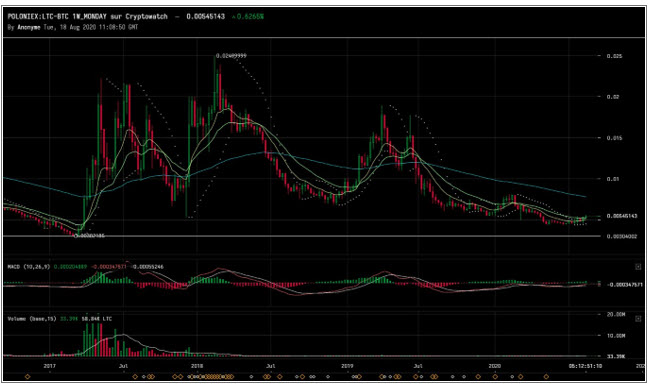 (Image via https://twitter.com/Francebitcoins)
Ripple (XRP)
Another popular cryptocurrency in the last year, Ripple is known for providing lighting fast transactions. A transaction using Ripple can take as little as four seconds, which is a lot faster compared to other cryptocurrencies. Alongside this, Ripple can be exchanged in any currency. Ripple is a cost-effective and quick way to send money all around the world, it has notable investors behind it such as Google Ventures, and it has the option of being scalable thanks to its speed.
Bitcoin Cash (BCH)
Bitcoin isn't flawless, which is why Bitcoin Cash was introduced to improve Bitcoin's scalability and ultimately make its transaction speeds faster, which it subsequently has done. Bitcoin Cash increased each block size from 1 megabyte (MB) to 8 MBs which had a positive effect on the overall transaction speed and has enabled it to grow in popularity in recent times. The likes of PayPal and Visa are expected to come under pressure from Bitcoin Cash thanks to its ability to reduce transaction fees and its ability to handle a larger amount of transactions.
EOS (EOS) 
Designed to help developers create decentralised applications, EOS is known as the "Ethereum Killer" thanks to its ability to process transactions just for validation for nothing. Launched in 2017, EOS used Ethereum blockchain-based ERC20 tokens for its ICO, although that isn't the case anymore. Still, EOS is growing.
DC Forecasts is a leader in many crypto news categories, striving for the highest journalistic standards and abiding by a strict set of editorial policies. If you are interested to offer your expertise or contribute to our news website, feel free to contact us at [email protected]