The Cardano holders feel quite disappointed over the 4.6% estimated staking rewards, as the platform released the details on this staking rewards system with the countdown to the Shelley mainnet launch. In our Cardano ADA news, we read more.
The amount of staking rewards is usually determined by a few factors such as the number of staking pools in operation, the block production efficiency, and the delegated pool. Right now, all of these elements are undetermined but based on the default estimates of IOHK, the users will get 4.6% per annum. The rewards from the Incentivized Testnet were between 6% and 8% depending on the individual staking pools so a sub-five reward on mainnet is a huge blow for the Cardano holders. One user said:
 "Most people were predicting 6-10% and even Charles said in one of his AMAs it would be similar to the ITN. I'm happy with 6% but under 5.. better to sell and buy property."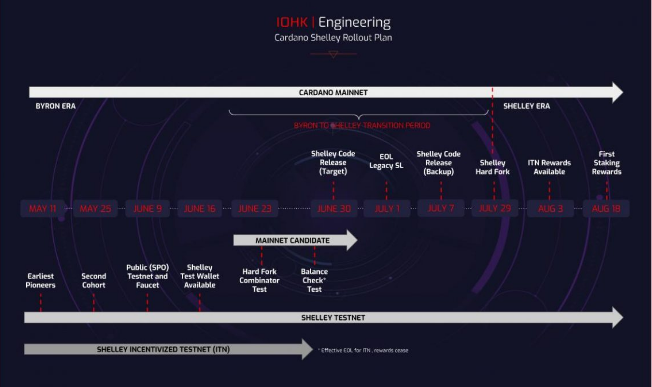 Another one pointed out that the figure is notional which and that this rate is better than any bank is currently offering. Cardano staking rewards will go live from August 18, 2020, which is three weeks after the Shelley rollout. Dr. Lars Brunjes, who is the educational director at IHOK explained the staking process and the staking calculator:
 "How are rewards calculated? That happens on an epoch by epoch base. Every epoch, which lasts for five days, rewards are determined and paid to all participants."
Each stake pool receives a reward determined by multiple factors such as the ADA pledge of the pool, the margin operational costs of the pool, the amount staked in the pool, and the performance of block production efficiency. After all the costs are subtracted, the remaining balance will be split proportionally between all delegators. Brunjes also explained about the diminishing returns on pool saturation which lowers down the reward payment if a pool becomes too big. This is currently set around 0.66%. If one pool controls more than the entire stake, then the reward paid to that pool is reduced.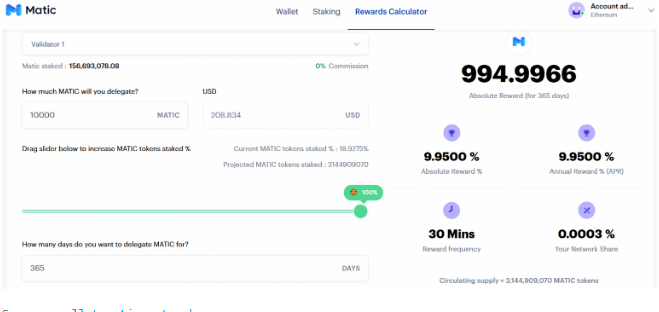 The goal is to incentivize stakers to move their funds to smaller pools when looking for better payouts which also encourages bigger decentralization that can be made. The Cardano holders feel let down of the estimated staking returns. While the 4.6% figure is based on the indeterminate factors, it is still lower than rewards from other staking pools. The Matic network pays 53% based on the 18% of Matic staked and this amount will fall more as Matic is staked but with a 100% circulating supply, the protocol will pay 9.95%.
DC Forecasts is a leader in many crypto news categories, striving for the highest journalistic standards and abiding by a strict set of editorial policies. If you are interested to offer your expertise or contribute to our news website, feel free to contact us at [email protected]