Bitcoin IRA Review
Our newest Bitcoin IRA Review discusses launching a retirement account with crypto. The Bitcoin IRA reviews show that since it was founded, the platform processed up to $1.5 billion in transactions with more than 100,000 users.
Bitcoin IRA was founded in 2015 by Chris Kline, Johannes Haze, and Camilo Concha. They founded their company in California intending to help investors connect crypto wallet services to their retirement accounts. Some people find this option as a great way to invest in crypto as they can avoid paying capital gains taxes like they would with traditional non-retirement investments.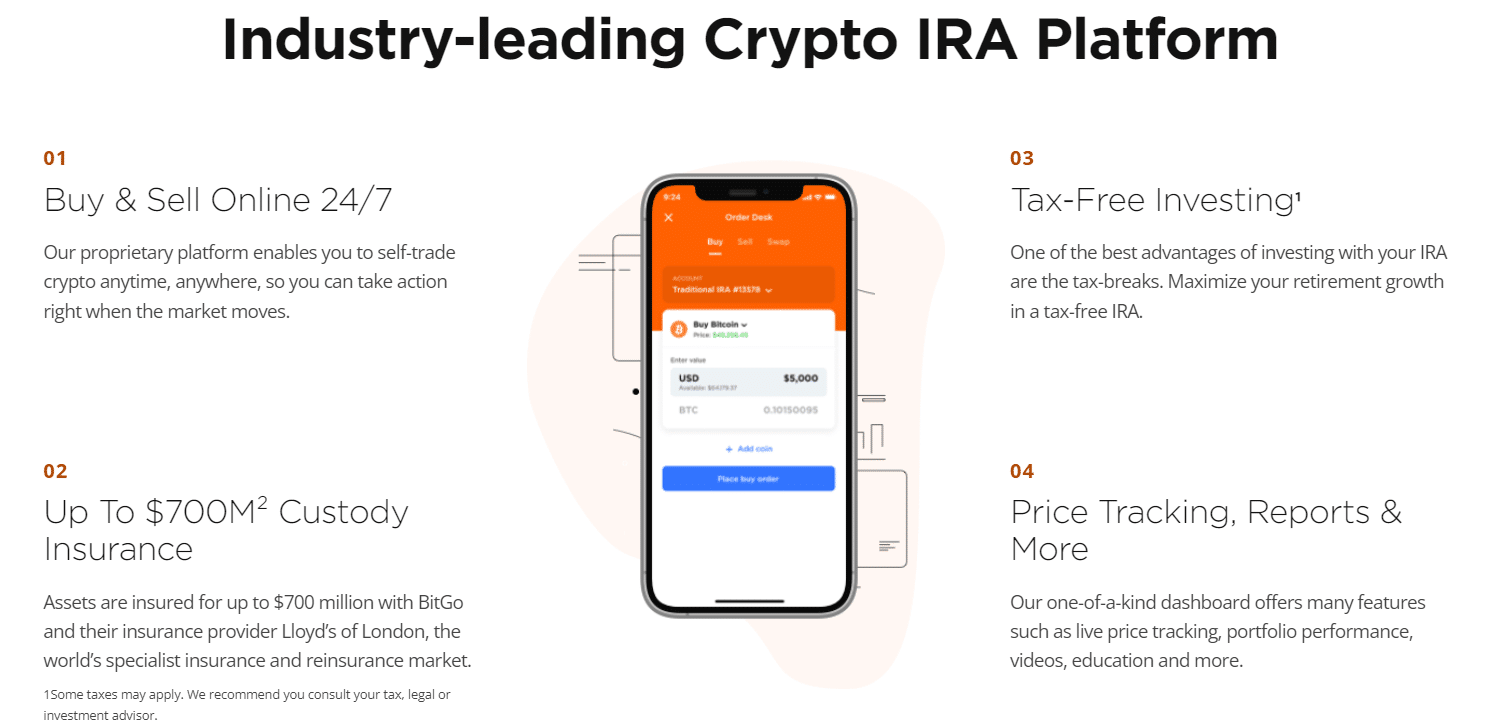 However, not everyone is that safe with their retirement funds especially when it comes to crypto. With crypto gaining popularity, users wondered if they can use Bitcoin in their long-term retirement planning.
Although it is possible to invest in crypto for retirement by having a custodian that will help, Bitcoin IRA makes the process simpler as it connects you to a custodial and digital wallet service at the same time. But let's read on in today's Bitcoin IRA review if all this is just that simple.
What Does Bitcoin IRA Offer?
Bitcoin IRA is an individual retirement account platform that provides services to those that seek to add cryptocurrencies to their investment portfolio. However, users can't transfer the crypto that they already own in the IRA but they would have to roll some of the existing assets into an IRA or simply use USD to buy crypto.
Bitcoin IRA helps to get you a custodian for a self-directed IRA and will guide you via the setup process. The custodian is often a financial institution like a bank and they have to be approved by the IRS or the International Revenue Service. Because the IRS treats BTC as property, users would have to use a custodian to hold these alternatives in their accounts.
As the Bitcoin IRA reviews show, users can invest in Bitcoin, Bitcoin Cash, Ethereum, Digital Gold, Ethereum Classic, Litecoin, Stellar, Ripple, and Zcash. It is also possible to use Bitcoin IRA and invest in physical gold which is then held in the Brink facility and gets its serial number.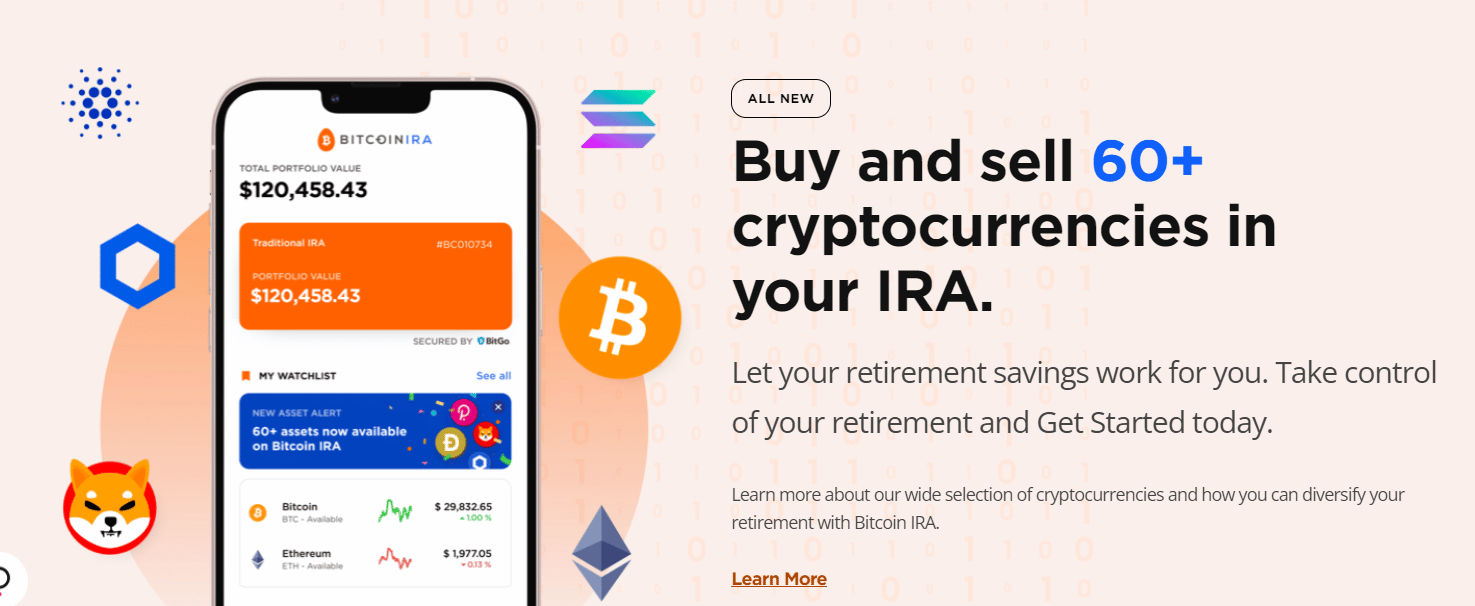 Bitcoin IRA Account Types
Users can open a Bitcoin IRA account as a traditional or a Roth IRA. However, it is also possible to move assets from existing accounts into a Bitcoin IRA. Users can roll assets from an existing IRA, SEP IRA, SIMPLE IRA, 401K, and 403B into a new account. Also, you can even move assets or a chunk of them but make sure to understand the tax laws applicable in your situation.
In addition to a basic IRA, users can open an Earn account which allows them to earn interest yields on the assets you can earn up to 6.00% APY on cash in the Earn Account, and the only crypto assets that can bring you to yield are Bitcoin and Ethereum.
Security And Safety
Although this platform says that it takes security quite seriously and offers a BitGo trust, the online Bitcoin IRA reviews from users don't share the same sentiment.
The trading platform uses SSL Security which banks often use and the BitGo trust feature works with Lloyd's of London for an asset insurance policy. It's important to note that these assets are not SIPC insured and the way it works is by only dealing with self-directed IRA custodians that are regulated within the US.
Can You Make Money With Bitcoin IRA?
Investing in crypto is always risky and there is not a 100% guarantee of returns. What you will earn with a Bitcoin IRA depends on your holdings in crypto, your investment timeline, and many other conditions. Some people think that a crypto IRA is way too risky because you would be investing your retirement funds into something crypto-related but others see it as a way to diversify.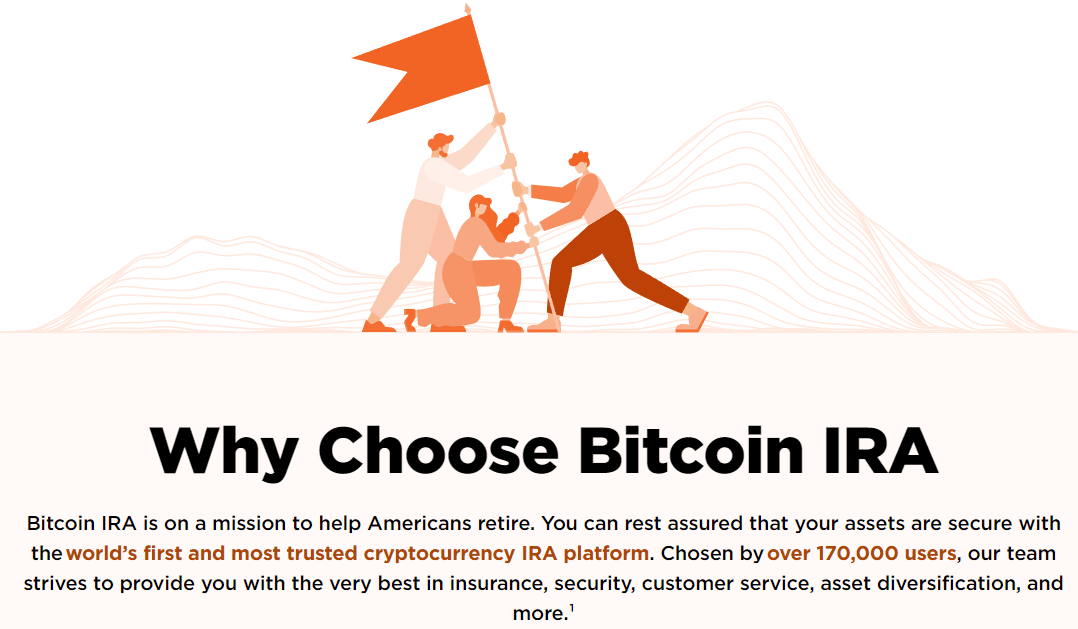 If you choose to use the Earn account there's potential to earn interest since the assets can be loaned out to others and then you can earn a yield on cash, Ethereum, and Bitcoin when you use the Earn account. If crypto ever becomes mainstream, you might have a chance to earn returns as the prices increase but crypto might never become mainstream and this means that you could lose your investment.
What Risks Does Investing in Bitcoin IRA Bring?
Bitcoin and other crypto come with their own set of risks and downsides. For example, once you invest in an IRA, you can lose the ability to use the limited contribution space of up to $6000 per year to invest in other assets.
Also, there's a risk of volatility. Bitcoin is prone to vigorous shifts in price but as it develops, the Bitcoin Volatility Index improved. Furthermore, there's still a lot of ambiguity about how these policymakers will react to Bitcoin and what legal changes will happen in the future.
Finally, the Bitcoin blockchain is modified and updated daily by a consensus of users and a potential fork in the blockchain might split the network again and diminish the trust in the asset.
FAQ
Is Bitcoin IRA legit?
This is a legitimate company and offers a way to invest a chunk of your retirement portfolio in crypto or gold. It also provides other financial services for opening up a Crypto IRA and moving your existing retirement savings into your new BTC account.
Can you deposit crypto into a Bitcoin IRA?
No. The laws in the US prevent users from transferring crypto assets from a wallet or exchange directly into their Bitcoin IRA.
Can you invest 401K in BTC?
Most of these plans will not allow you to invest money in crypto assets like Bitcoin but then you can roll some of the assets into a Bitcoin IRA.
The Review
Bitstamp
Bitstamp is based in Luxembourg and it also got a license to operate in 27 EU countries but also got a license to operate in the US and China. Bitstamp also has the highest 24-hour trading volume and this is likely due to the fact that it is one of the oldest trading platforms on the market.
PROS
Advanced Trading Platform
Wide Selection of Altcoins
CONS
High Deposit Fees
Long Wire Transfer Time
High Trading Fees
Slow Verification Process
Review Breakdown
Bitstamp Suffered A Hack Attack

0
DC Forecasts is a leader in many crypto news categories, striving for the highest journalistic standards and abiding by a strict set of editorial policies. If you are interested to offer your expertise or contribute to our news website, feel free to contact us at [email protected]