BTC blockchain grew to 300 gigabytes in size, reaching a new milestone as we are reading in our latest bitcoin news today.
The size of the full bitcoin blockchain surpassed 300 gigabytes of data a few days ago according to Blockchain.com. This is the size of full Bitcoin transaction history for the past 10 years and it is also the amount of information full mining nodes that are needed to download and to keep on their hard drives after synchronizing with Bitcoin's network. The BTC blockchain grew to 300 gigabytes while the amount o data seems quite significant, the terabyte hard drive will easily cover it and will continue to do so for another ten years or maybe more. On the contrary, the archival node on Ethereum blockchains are already more than five terabytes in size and the records speeds with the growing block seizes although the pruned node came at 165 GB.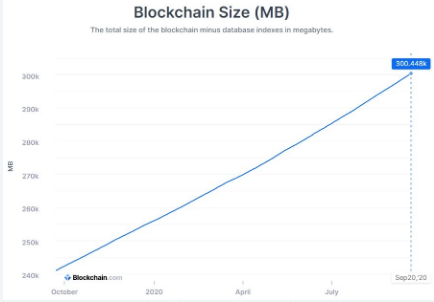 The bitcoin blockchain has been growing at a faster rate in the past few years as opposed to the early days. This is mainly due to the increase in the number of transactions that are made on a daily basis and the introduction of SegWit, which doubled the block sizes to two megabytes. In the first four years of its life, the BTC blockchain reached only 20GB but in 2016 it reached 54GB which shows that the growth started speeding up due to the people that used the network. It grew about 58 GB a year.
With the size of Bitcoin's blockchain not affecting the network speed at all, the full nodes need to download the whole thing once during the synchronization, some parts of it still can be optimized. One small aspect of the BTC bloat is the unspent transaction outputs which are created when some BTC is sent and the remained of the wallet gets sent back to the wallet as unspent. They take up to four gigabytes of space but they could become a scalability issue in the future according to Utreexo developer Calvin Kim.

Utreexo tries to solve this and compresses these proofs to less than one kilobyte and provides a long-term scalability solution as the size increases. The blog post explained:
 "Utreexo is a hash based accumulator, which allows unspent outputs to be compressed into a smaller size. There is no loss of security; instead, the burden of keeping track of funds is shifted to the owner of those funds."
DC Forecasts is a leader in many crypto news categories, striving for the highest journalistic standards and abiding by a strict set of editorial policies. If you are interested to offer your expertise or contribute to our news website, feel free to contact us at [email protected]