Multiple Coinbase outages occurred a few moments after Bitcoin surpassed the $40,000 price point, doubling the previous peak that was set in 2017. A huge rejection happened moments after which resulted in a $4000 drop as we can see in the charts of our BTC news today.
However, when the investors stepped in to "buy the dip" on the Coinbase crypto exchange, they were met with disrupted services and multiple coinbase outages and stopped them from participating. Because BTC is trending on Twitter, Coinbase is as well but not for the right reasons. If the exchange wants to participate in the latest developments, it has to shape up its act before the bull run enters a new phase.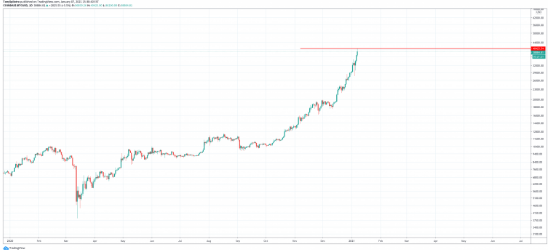 Coinbase was the first poster child in the 2017 bull market as its app was trending on the Apple App Store because thousands of investors started buying BTC back in 2017. With the crypto market starting a new bullish cycle, BTC today set a new high which is double the one seen in 2017 that put both the asset and the exchange on the map. The two major brands in finance are maturing with BTC becoming the main investment focus for investors that are looking to protect their wealth from the strong blows of inflation. Their money has pushed the cryptocurrency to new highs extremely fast.
On Twitter, there was a lot of outrage regarding the Coinbase outages that were experienced today during Bitcoin's pump. BTC shot up to $40,000 from the $30,000 price point in a week and started 2021 with a bang. The move culminated today but it was rejected shortly after setting up a peak of $40,412 on Coinbase. Unless the orders are placed, few were actually able to buy or sell any BTC during the Coinbase rush. Users reported issues from outages, inabilities to log in, or withdrawal issues.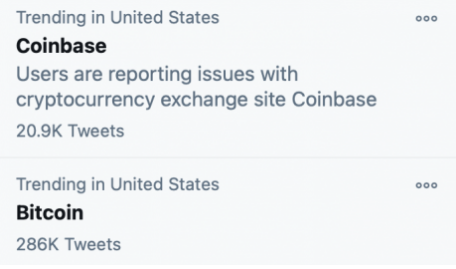 The issues moved on the Coinbase Pro platform as well which is designed for institutional investors. BTC was trending on Twitter as its price skyrocketed but Coinbase trended as well but not because it was a great exchange but because of lack of performance. The exchange is still the go-to spot for institutions that are planning on launching an IPO this year.
DC Forecasts is a leader in many crypto news categories, striving for the highest journalistic standards and abiding by a strict set of editorial policies. If you are interested to offer your expertise or contribute to our news website, feel free to contact us at [email protected]