Coinbase on Layer 2 will bring more scalability on the market with many news on ETH scaling lately with the biggest being the Coinbase Wallet that integrated with Optimism's Optimistic Rollup testnet so let's find out more in our latest Coinbase news.
There was an explosion of ETH scaling developments over the past week with the latest and the biggest one announcing that the Coinbase Wallet is integrated into Optimism's Optimistic Rollup testnet. The wallet is the US exchange's non-custodial wallet and the dapp browser and the integration will help the users see their balances and send transactions on the testnet according to the post.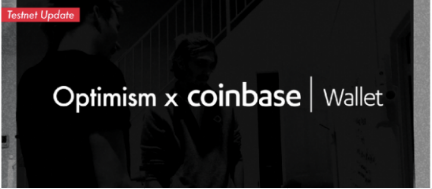 Exchanges and dapps that move into the Coinbase Layer 2 solutions will enable increased throughput and will reduce congestion on the ETH network that will be key for Ethereum's long-term growth. With the niche user base, the gas fees and confirmation times increased at the height of the yield farming craze where the point of pricing out anyone transacting with small accounts. Coinbase is the second major centralized exchange after bitfinex and has plans to take part in the transactions of the ETH main chain. Bitfinex is in the process of integrating with the OMG off-chain scaling solution named More Viable Plasma.
Layer 2 scaling solutions are technologies that will remove some of the on-chain and take it off-chain so that the network will be faster. Optimism uses Optimistic Rollups which are one of the Layer 2 solutions. Synthetix had also announced the first phase of the integration with Optimistic Ethereum in May and said that it's moving to phase two of the integration which will trial the migration from Layer 1 to Layer 2.
While Optimism's announcements are for the testnet, there are live scaling solutions that support ETH dapps as the value transacted on them is also increasing but it is still relatively low. Value deposited in the Loopring, the DEX built using ZKRollup scaling technology, increased by 70% to $17 million over the past 90 days. Funds in the xDAi sidechain increased from less than $500K to more than $2.5 million in the time of increasing the number of apps from POAP to Foundation are using the network.
In addition to Coinbase announcements, here's what happened over the past week's scaling developments: Aztec Releases privacy-focused zkRollup layer 2 testnet, Matterlabs, and Curve announce zk-Sync based Layer 2, and also Quickswap DEX launched on the Matic Network.
DC Forecasts is a leader in many crypto news categories, striving for the highest journalistic standards and abiding by a strict set of editorial policies. If you are interested to offer your expertise or contribute to our news website, feel free to contact us at [email protected]