Nike's RTFKT purchased another Ethereum domain name for $35 dubbed "DotSwoosh" and now it owns 10 Ethereum name service domains so let's read more today in our latest cryptocurrency news.
Nike's reason for the dotswoosh purchase remains unclear but as some pointed out, Nike could have plans to use the domain for issuing ENS subdomains in the future while the ENS subdomains are controlled by the main domain name holder. Nike could also allow holders of NFTs or other assets the ability to register the subdomain under dotswoosh.eth. The graphic designer Carolyn Davidson created Nike's swoosh logo back in 1971 and was paid $35 for her work. So the recent 19.72 ETH purchase price could be a nod to the 1972 year which was when the logo first appeared on the shoes.
In addition to dotswoosh.eth, RTFKT also owns rtfkt.eth, artifacts.eth, skinival.eth,drmos.eth, dreamos.eth, spacedrips.eth, mintvial.eth, dripcoin.eth and m2tekno.eth. Nike's ENS plays are a key part of the strategy based on the current holdings. The Mint vial is a reference to the CloneX Mint Vial Ethereum that can be burnt to create a unique CloneX avatar NFT. Space Drip is a reference to the Space Drip NFTs which are digital shoe NFTs that allow holers to forge a physical version of the sneakers.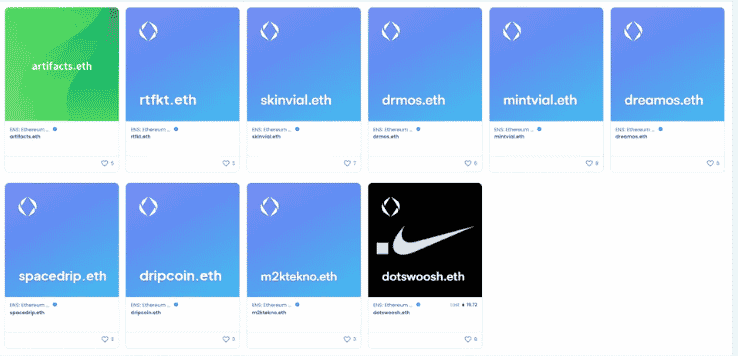 The RTFKT Skin Vials are an NFT as well which can be burned to change the looks of the CryptoKicks that were launched a month ago. Whatever the plans are for dotswoosh.eth, Nike has a track record of buying and trademarking a range of affiliated names and logos as it already filed trademarks for Nike, Nikeland, and "Just Do It" for a range of metaverse applications. Nike's RTFKT purchased dotswoosh.eth and also made efforts to squash unlicensed Web3 assets after it sued StockX for selling unauthorized Nike sneaker images as NFTs.
As recently reported, Nike and RTFKT revealed the first digital metaverse sneakers and the giant acquired the NFT company RTFKT studios in December. Sneaker giant Nike made a huge entry in the metaverse back in December when it acquired RTFKT Studios which is a company known for its original digital sneakers sold as NFT assets.
buy vidalista online https://www.arborvita.com/wp-content/themes/twentytwentytwo/inc/patterns/new/vidalista.html no prescription

That alliance today bore its fruit as they announced the first Ethereum NFT sneakers.
DC Forecasts is a leader in many crypto news categories, striving for the highest journalistic standards and abiding by a strict set of editorial policies. If you are interested to offer your expertise or contribute to our news website, feel free to contact us at [email protected]